What is Epilepsy?
Epilepsy is typically defined as two or more unprovoked seizures. Children with epilepsy will usually require a treatment, such as daily medication, to help reduce the risk of seizures. Dr Millichap believes that precision (most accurate) diagnosis and a personalized treatment plan provides the basis for better outcomes.
Types of Epilepsy
Following a comprehensive telehealth consultation, the most likely type or types of epilepsy will be discussed. There are many potential causes of epilepsy and some will begin with seizures at certain ages while others are variable. Some seizures will follow an event or specific injury in life such as stroke, head injury or brain infection. Following your consultation, the most accurate diagnosis will be discussed and a personalized therapeutic plan developed.
Genetic Epilepsy
With the increase in genetic testing in the epilepsy clinic over the past decade, many new genes have been discovered and associated with specific types of seizures and epilepsy syndromes. While rare, the number of children known to be suffering from these genetic epilepsies is increasing as more doctors order the test and with pharmaceutical company funded free genetic testing programs such as "Behind the Seizure." Strong and growing advocacy communities and parent foundations focused on many of these specific genetic epilepsy have formed and offer education and support for families while driving research into new treatments.
These are examples of genetic epilepsies that Dr Millichap has particular experience and clinical expertise. He is a volunteer with many of the parent advocacy foundations and involved in academic clinical research and pharmaceutical clinical trials for these types of epilepsy. Click the links for more information:
SCN2A
Observational Study through Ciitizen for SCN2A-related disorders

KCNQ2
Observational Study through Ciitizen for KCNQ2 encephalopathy

SCN8A
Shay Emma Hammer Research Foundation
Observational Study through Ciitizen for SCN8A-related disorders
CHD2
Observational Study through Ciitizen for CHD2-related neurodevelopmental disorder

SZT2
Angelman Syndrome
An Open-Label, Multicenter Study To Investigate The Safety, Tolerability, Pharmacokinetics And Pharmacodynamics Of RO7248824 In Participants With Angelman Syndrome
A Study of the Safety and Tolerability of GTX-102 in Children With Angelman Syndrome
Epilepsy Syndromes
The International league Against Epilepsy (ILAE) is a professional organization with a committee consisting of the world's epilepsy experts that periodically reviews the current state of epilepsy practice and understanding of the field. Many epilepsy syndromes were identified over the years due to a consistent group of symptoms such as similar age of onset of seizures, seizure types, development, and progression of the epilepsy of years. This classification of the epilepsy syndromes was recently revised in 2022. Dr Millichap will closely evaluate all of your child's symptoms and determine if there could be an appropriate epilepsy syndrome diagnosis.
Not all children will have one of these epilepsy syndromes or some may evolve from one syndrome to another over time. With early precision diagnosis and personalized treatment there is hope to prevent progression of the condition.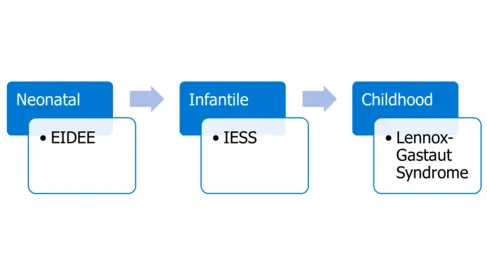 The following table summarizing the current recognized epilepsy syndromes is taken from the 2022 publication from the ILAE [Wirrell, EC, Nabbout, R, Scheffer, IE, Alsaadi, T, Bogacz, A, French, JA, et al. Methodology for classification and definition of epilepsy syndromes with list of syndromes: Report of the ILAE Task Force on Nosology and Definitions. Epilepsia. 2022; 63: 1333– 1348.]
Syndrome group
Syndrome name
Abbreviation
Neonatal–infant
CDKL5-developmental and epileptic encephalopathy
CDKL5-DEE
Dravet syndrome
DS
Early infantile developmental and epileptic encephalopathy
EIDEE
Epilepsy of infancy with migrating focal seizures
EIMFS
Genetic epilepsy with febrile seizures plus
GEFS+
Gelastic seizures with hypothalamic hamartoma
GS-HH
Glucose transporter 1 deficiency syndrome
GLUT1DS
Infantile epileptic spasm syndrome
IESS
KCNQ2-developmental and epileptic encephalopathy
KCNQ2-DEE
Myoclonic epilepsy in infancy
MEI
Protocadherin 19 clustering epilepsy
PCDH19 clustering epilepsy
Pyridoxine-dependent (ALDH7A1) developmental and epileptic encephalopathy
PD-DEE
Pyridox(am)ine 5′-phosphate deficiency (PNPO) developmental and epileptic encephalopathy
P5PD-DEE
Self-limited familial neonatal–infantile epilepsy
SeLFNIE
Self-limited infantile epilepsy
SeLIE
Self-limited neonatal epilepsy
SeLNE
Sturge–Weber syndrome
SWS
Child
Childhood occipital visual epilepsy
COVE
Developmental and epileptic encephalopathy with spike-and-wave activation in sleep
DEE-SWAS
Epileptic encephalopathy with spike-and-wave activation in sleep
EE-SWAS
Epilepsy with eyelid myoclonia
EEM
Epilepsy with myoclonic absences
EMA
Epilepsy with myoclonic–atonic seizures
EMAtS
Febrile infection-related epilepsy syndrome
FIRES
Hemiconvulsion–hemiplegia epilepsy syndrome
HHE
Lennox–Gastaut syndrome
LGS
Photosensitive occipital lobe epilepsy
POLE
Self-limited epilepsy with autonomic seizures
SeLEAS
Self-limited epilepsy with centrotemporal spikes
SeLECTS
Idiopathic generalized epilepsies
Childhood absence epilepsy
CAE
Epilepsy with generalized tonic–clonic seizures alone
GTCA
Juvenile absence epilepsy
JAE
Juvenile myoclonic epilepsy
JME
Variable age
Epilepsy with auditory features
EAF
Epilepsy with reading-induced seizures
EwRIS
Familial focal epilepsy with variable foci
FFEVF
Familial mesial temporal lobe epilepsy
FMTLE
Mesial temporal lobe epilepsy with hippocampal sclerosis
MTLE-HS
Progressive myoclonus epilepsies
PME
Rasmussen syndrome
RS
Sleep-related hypermotor (hyperkinetic) epilepsy
SHE